Health is Wealth
"I am confident that nobody… will accuse me of selfishness if I ask to spend time, while I am still in good health, with my family, my friends and with myself." Nelson Mandela
My recent ski accident taught me some valuable lessons that I have never thought about.  Our life can be take away in a small accident and cause other important things in our lives to be missed or being put behind in the back seat.   It can cause us to miss what life is truly all about.     In the last few weeks, I missed a few times watching my son compete at his swimming meets.  I finally got to watch him compete at the State Championship meet last weekend as my knee gets better.   What a precious moment! that I will never forget to see his beautiful smile that his team got to the 3rd place.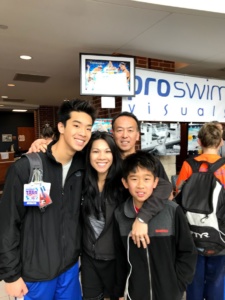 I have been thinking about my health overall throughout my life the last few weeks.  Being an avid health conscious person and watching some of my close friends and mentor passed away due to lack of keep up with their health while they're young and how to scope with the unexpected events.
I was very disappointed when the event happened given being a careful skier.   I realize that no matter how careful and cautious I am, the accident happened.  I am so grateful that my physical body has scoped well with the knee healing in the last few weeks and now I am back to do a lot of things normally.  My mobile is getting better.  I can drive and be at my kid's activities starting this week.  I am so blessed and thankful that I have put my health as a priority throughout my life.   My Orthopedic gave me a great compliment and kudos to my healthy mind and body that made my knee healing process much easier.
Control your mind to control your life
None of us want an accident and things do happen to any of us.   How we deal with them when it happens can ease the process of healing.  In life, there're a lot of things that you can't control, but when you know how to deal with them when it happens you can move along well with the game.  This is the mental game and control your mind to deal with it in a positive manner can ease the healing process.     Be strong so that you can ask the right questions with the specialized doctor, who is your mentor in the healing process.  In my knee case is an Orthopedic surgeon.    I have taken care well by a great doctor and so glad that I took my time to find a great one!
Take care of our good health as your priority.
I know, we are all very busy with work and life but do not let this set-in front of your health.  Put your health is your priority.   When you have a good health, you will have a focus to do well in business and family life.  In the last few weeks, I have put mind heart and soul into the healing process of my knee.  However, I missed some important events of my children, but I know that will be temporary.
My real estate business has taken on the back seat of my daily routines. I know it will still be around when I am back, and I am thankful that my RE team have been doing a great work in my absence.
I was sad when my mentors passed away a few years ago.  Both were excellent businessmen, but both did not have good health or family life.   They both focused on business more than their health and family.  I love them both like my own father and had high respect for their expertise in the real estate investment business.   They left a large fortune behind for their heirs.  It's sad to see their health decreased over time until they pass away.  It would be wonderful that they take care of their health as their priority.  I wish that they still are around to help others to succeed in this real estate investment business because they both had such kind heart to help others succeed and enjoy the fruits that they planned.   In the end, what is the point of working so hard to build an empire and you will not be around to enjoy it.
The opportunity cost - do not wait to live life fully
Life can't wait for us.    Have you heard of the phrase, "I will spend more time with my family when I retire or when my business is very successful"?  I was in this trap mindset when I started my businesses, worked alcoholic person and neglect other important things in life.    I missed a first few years of our sons' life as I was so focused building my business.   Having a good income was great but missing out to live a great life with your loved ones can be devastating.    Know your priorities before you will find a business that will support your design lifestyle.  I wish that I know about this when I was in college.  Some of you may have read a 4-hour workweek week by Tim Ferris, he shared a lot of valuable tactics and lessons how you can do not have to delay living until you tired.  You can create a business to make a good a living and still have time to focus on health, family, and contributions.
Be obsessed with a good health and happy family life
Being obsessed with priority important things in life is very crucial that pave the way for you to think creatively finding a career to serve your designed lifestyle.
You all have an ability to create a career that works around your important priority things.  I did not know this until I lost my job because the company that I worked for ran out of money.   This unexpected event was awesome. It forced me to think differently and to think outside of the box.   Not let others control my financial future and be responsible what I truly want of my life (financial abundance and great quality of life).
Success did not happen overnight so prepare to work hard the first few years in any business that you started.  The business can eventually can run on its own when you have systems and processes that you put together that others can run on your behalf.  You may know the richest man; Bill Gate and his executive management teams have built proven systems and processes at Microsoft and Microsoft have run successfully in the last 10 years without his presence.
You do not have to create a big business to provide you a great quality of life.  As long as you know your numbers and there are a lot of business that you can create.  Keep looking and you will find it.
Be a service to others while we're here
"It's not how much we give but how much love we put into giving"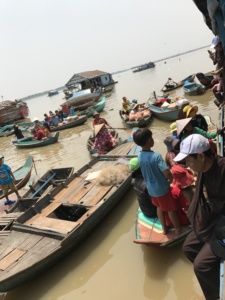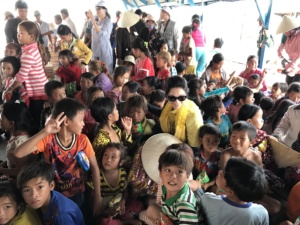 Having a good health, not only allow us to live life fully with our loved ones and good friends but allows us to serve others and the world that we live in. As a great leader, Bill Gate and his wife have done tremendous giving not just contributing their resources, but their valuable time on most of the important projects that make a huge impact in the world for years to come.
By this time, last year, I was visiting family and children who live in a small fishing village called Ton Lap Lake in Siem Riep, Cambodia.   I joined with other 20 giving souls on this trip to provide rice, noodles, school supplies for 400 + kids and some funds for 600 + families during the low season of fishing.   If I did not have my knee injury, I would have been there today.  I miss these beautiful smiles of these children This organization, there every year to help a lot of less fortunate families in a rural area of Vietnam and Cambodia.    The picture that you see was taken from my last trip visiting families and children in Ton Lap Lake in Siem Riep, Cambodia.  I missed those happy smiles of the young children who surrounded me during my visit.  Life is full of joy when you can help others in a positive way.
"If you can't feed a hundred of people, then feed just one" Mother Teresa
Keep up good health on a daily basis
I'm glad about my consistent exercise in the last 20 + years between running, cycling, yoga, hiking, and meditation, I have been able to scope with the knee recovery well.    I am thankful!  I am back to do what I love is sharing my real estate journey with you, managing my real estate business and do things that matter.
I know we're very busy, but I wish that each of us will find time and put our health as our priority.
It's important to exercise 3-4 times per week to maintain your healthy mind and body.  When you have a healthy mind and body, you can do so much to enjoy a life that you have built and also continue contributing to the world that we live in.   May it be to mentor at your local youth organization to help young kids to see all possibilities what they can become and achievable.
Share your comment below about what health means to you.   __________________________________________________________________
Related posts: